A common complication of Rett syndrome is the development of scoliosis (curvature of the spine).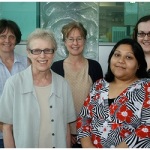 There is limited information in the medical literature regarding the management of scoliosis. We are grateful  therefore to colleagues at Interrett who have developed some guidelines to provide information for parents and carers which may also be helpful to doctors caring for girls and women with Rett syndrome.
Many thanks also to Meir Lotan for sharing this presentation on scoliosis which shows the possibilities for reducing the curve even in older people with Rett syndrome using intensive correction positioning and intervention therapies. In addition, he demonstrates that walking ability can be regained in adults with Rett syndrome.