Fed up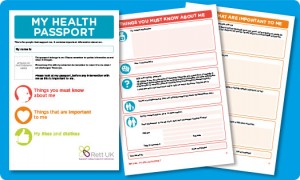 with repeating yourself to health care professionals? Need to keep track of medication and all the treatments your daughter/son has had, in an easy to update format? As a PDF you can write into, you can keep the copy clean and up to date very easily.
Rett UK are pleased to bring you a new resource which we think you will find really helpful for all of this, including visits to the dentist. The Rett UK Health Passport keeps all that information in one place for you to print and keep in folder, or share electronically. Take the information with you if they have an unplanned emergency admission; the Grab Sheet, works really well as an overview but then if your daughter/son is admitted, the full file will be more appropriate. Useful too for outpatients appointments. We have included some pointers about Rett syndrome which are often overlooked or not understood, plus where to go for more information.
Download your Rett UK Health Passport
If you don't have access to a printer, or would like us to print it out for you once you have completed it, please just ask and we will do it for you.