Rett UK Regional Roadshows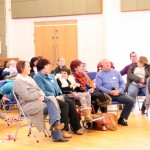 Our last Regional Roadshow was held in Enfield, North London in March 2015 and over 30 families attended. Presentations on epilepsy, scoliosis, music therapy, breathing and sleep disturbances plus 1:1 sessions for eye gaze, dental health and oral hygiene made it an informative and interesting day.
The 30th Anniversary Family Weekend was held 9th-11th October 2015 at The Hilton Hotel, Northampton. We had a full house with 90 families attending and over 20 professionals from various disciplines. It was a great opportunity for families to meet each other, showing mutual support and sharing experiences as well as listening to high calibre presentations from key people working in the Rett community both in the UK and further afield.
Some of the presentations and accompanying audio recordings are available in our members section of the web site. If you are not a member and would like to join Rett UK, membership is free and you can sign up here.
After reviewing the Regional Roadshows we are moving towards developing a greater regional presence, developing Regional Hubs that engage local health, education and social services professionals as well as drawing in the local support groups, regional ambassadors and local businesses/funders who would be interested in supporting our work in their communities.
The first one was in Scotland on 22nd/23rd April 2016 at Hazelwood School, Glasgow. We partnered with Rett Syndrome Association Scotland to deliver this event which was extremely well received and has established a good base upon which to build future support for the region. The second event was at The Ellen Tinkham School in Exeter and  the final event for 2016 on the 14th/15th October was at Rowan Park School, Liverpool.

We are delighted to have received some funding towards future events from Jeans4Genes, specifically to fund a series of training workshops for parents to help them manage the needs of all the family when there is a child with Rett syndrome in the home. We will be offering this training at future regional events. 
The first regional event for 2017 will be in Northern Ireland on 31st March/1st April 2017, followed by a summer event in Newcastle and an autumn event in Kent.