Rett UK has been pr

oviding support services for over 30 years. The founding families are still involved today and bring a valuable insight to the Rett syndrome journey from toddler through to adulthood. Our professional family support team based in the Luton office has over 40 years experience of providing services to people with disabilities having worked in special schools, managed residential homes and also met hundreds of children and adults with Rett syndrome over the years. Our CEO, Becky Jenner, is mum to Rosie who has Rett syndrome. Rosie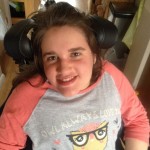 is now an adult so Becky is able to bring her personal experience of supporting someone with Rett syndrome to the support team.
Our collective goal is to give you the support, information and practical advice you need to help you deal with the challenges Rett syndrome presents; not to just to your daughter (or son) but encompassing the family as a whole. A diagnosis of Rett syndrome impacts on everyone in the family and we are here when you need us. We can also liaise with the people involved in providing services that your son or daughter accesses. This could be in health, education, respite or residential services. Please call our support helpline for more information or if you need a chat . . . sometimes just talking to someone who understands what you are feeling can make a world of difference.
We are very grateful to Justin Kelly and his family for this incredibly moving video featuring beautiful family moments captured in photos by Justin. The video featured as part of our October 2016 Awareness Campaign reaching over 18,000 people and viewed over 7,000 times.