Could you be a Rett champion!
Okay, so we can't turn you into a superhero – but you'll definitely be one in our eyes if you could do some fundraising for us.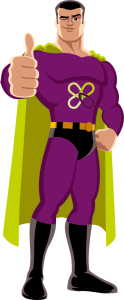 Maybe you're a sporty type who'd love to do a sponsored cycle ride? Check out Cycle for Charity or run 5K Run for Charity. Perhaps you could have a fun karaoke evening. Or do something seriously daft like bathe in baked beans. And if you're up for a challenge, you could always climb Kilimanjaro. Need more inspiration? Take a look at these fundraising ideas 100ways2fundraise .
Whatever you decide to do, we're right behind you. We can supply you with free Rett UK T-shirts to help your event stand out. We can provide you with pin badges and wrist bands for you to sell on the day. And we can give you posters and information leaflets so everyone can learn more about Rett syndrome and the work that our charity does. Pretty much everything, in fact, to make your event a huge success!
We always do our best to attend events and we can arrange a speaker to say a few words or for someone to come and collect your cheque. We can't attend every event, of course, but we've developed a network of Regional Ambassadors across the UK willing to help.
Feel like getting involved? For lots more information take a look at our
Fundraising Pack  for more information.
* Ready to fundraise? We'll send you our registration form and fundraising agreement – just call us on 01582 798 910 or pop us an email fundraising@rettuk.org
Other forms that will support your fundraising available here.
Donation and Direct Debit Form