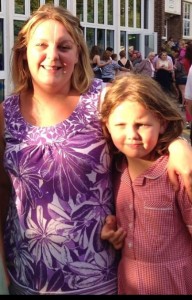 Sarah Miller and Chloe have given us permission to share their story with you and it has been published in our quarterly magazine.
'My little girl Chloe was late in being diagnosed with Rett Syndrome, she was 8 before we got a confirmed diagnosis, for many years she suffered with a variety of symptoms, at the time little did we know that they were all linked to Rett.
When Chloe was born in March 2005, I was a young mother, at university, still living with my parents. Chloe although tiny was perfectly formed and a beautiful little girl with blonde hair and big blue eyes, as soon as I laid eyes on her I fell in love but I didn't really know how to be a mother and  relied heavily on my parents to help me and show me the ropes. As the days and weeks after Chloe's birth passed, I then became very poorly, my heart eventually failed, I have since gone on to have 12 heart surgeries and have been left completely reliant upon a pacemaker. Reality soon kicked in when I realised that I was no longer this young, independent young girl, I was in fact now a young woman with a life changing illness, a single parent but also a mother to a beautiful baby who needed me more than ever, I can truly say that Chloe got me through those heart surgeries, the dark day became lighter and I learnt to adapt.
Chloe is now 10 years old, she is a happy, bubbly little girl who like all of the girls is very determined. Chloe has recently been suffering with her third stage regression, until recently Chloe was walking well, although over the last 6 months this along with the frequency of her seizures has declined. Chloe is currently having between 50 and 80 seizures per day and despite frequent increases and changes in her medications the seizures continue to develop. During this time Chloe's behaviour also dramatically changed, to the point that I did not know the little girl who was in front of me. Chloe would be very violent and she became very angry, I couldn't find the exact trigger points, often Chloe would go from happy to uncontrollable within seconds. She has remained in mainstream primary school throughout her education but she was refusing to go to school, physically violent towards me in the morning, impossible to get in the car and even at home time Chloe would be very negative over her day, nothing positive would ever happen during the school day, she had no peers, the gap had become too wide between Chloe and the other children within the school, this is when the family support team really stepped in and became my saviours at the end of the telephone.
I spoke to Patrice and Julie almost daily, just having someone who would listen was amazing and the advice and support that they both offered myself and my family was truly overwhelming. I didn't know what to do with Chloe, how I could help my little girl through her dark days, just like she had once done for me. I spent so much time with Chloe and trying to help her I neglected my own health and before long I was back in hospital suffering from an infection around my heart.
The Rett UK team have been my rock, they put me in touch with other families whose girls had severe behaviour changes, this really helped talking to others who could actually say "I know how you feel" and truly mean it. Patrice and Julie also signposted me to organisations that could help me and Chloe, Patrice went above and beyond and even attended Chloe's multi-agency meeting at school via conference call to support me in winning the fight to get Chloe's ECHP changed and together we fought to move Chloe to special school.
At the beginning of November I got a call to say that Chloe's EHCP had been changed to special and that our local area school had a place for Chloe and were happy to accept her.
Chloe has since started at Forest Way Special School, wow what can I say, I now have my little girl back, she's happy, bubbly and pleased to attend school. There's no more fighting to get dressed in the morning, no more negative pickups. She's making friends and is happy to be in a school where she understands what is going on around her, she is able to access facilities that she's longed for such as hydrotherapy and music therapy. Her behaviour at home has also improved. As for me I'm much better than I was, there's still some hills to climb in my treatment but I know that when those dark days come around, Rett Uk's family support team will be there for me and Chloe and for that I am eternally grateful. '
Sarah and Chloe Miller
Ashby-De-La-Zouch, Leicestershire