We were delighted to launch our communication project in the summer 0f 2017! The overarching aim of the project is to give every person with Rett syndrome the opportunity to reach their communication potential so their voice can be heard. So far we have ran Augmentative and Alternative Communication (AAC) training days for families and professionals at various locations around the UK and we have produced a fantastic booklet giving advice, tips and personal stories using all forms of communication. The booklet is available in the members section of our website where you can download it for free. Membership is free!
In the Resour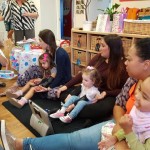 ces area you will find information on eye gaze technology you will find a comparison between some of the different devices, software and language systems. We also now have loan devices – these can be borrowed after a parent/carer has attended an AAC training day plus a communication session with the person with Rett syndrome. These devices will be loaned for approximately one month and will be to support you in collecting evidence to apply for funding for your own device. Our training days are run six times a year across the UK in different locations. Please keep an eye on our events page for more information on when and where they will be.
Also in the resources area is the communication section of the website you will find some documents on how to get started using no tech or low tech communication. They're the things you don't need an expensive device for! Some of the documents refer to low tech grids you can print off and use. If you would like access to these please email us and we can send them to you (info@rettuk.org).
We hope you find the information helpful and we will add more videos and resources soon so keep looking back! If there is anything else we can support you with on your communication journey please get in touch.